Parking Lot Sweeping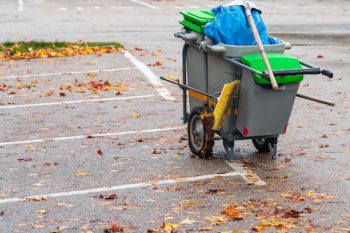 Top Tier Cleaning Service provides Portland, Oregon property owners with high-quality professional janitorial services, including parking lot maintenance. When your potential customers choose where to shop, your parking lot is their first impression of your business. A dirty parking lot littered with cigarette butts and other garbage doesn't leave a great first impression when it comes to your potential clients. A clean, well-maintained parking lot is critical when it comes to your business's curb appeal.
Parking Lot Maintenance
When you hire Top Tier Cleaning Service to provide regularly scheduled parking lot sweeping services, your parking area, walkways, and public access areas remain accessible and clean. Well-maintained parking areas help increase property values and actually discourage people from littering. Customers and other passers-by are much more likely to litter on a property that is already dirty than one that is pristine.
Save time and money by outsourcing your parking lot maintenance to Top Tier Cleaning Service in Portland, Oregon. We can help remove trash, brake dust, rubber, and other contaminants that can litter your parking area and pollute our environment. If you don't perform routine parking lot cleaning, stormwater and other runoff can become contaminated. This water ends up in our storm sewer system which ends up in our drinking water.
How Do I Find
Parking Lot Cleaning Near Me
?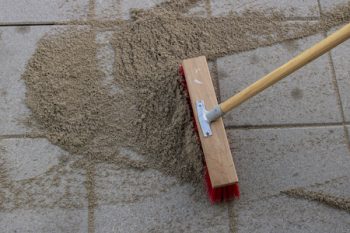 At Top Tier Cleaning Service, our business is helping your business thrive. If you're looking for commercial cleaning services in the Portland metropolitan area, look no further than our experienced team. We provide many companies in the area with excellent customer service while providing customized cleaning plans to provide them more time and money to expand their business. You shouldn't spend your time worrying about washing the asphalt outside when you could be coming up with more ways to generate leads and revenue. We offer commercial pressure washing for your parking area, and we can also remove graffiti along with a wide variety of other janitorial services, including:
Office cleaning services.
Hospitality cleaning services.
Corporate event clean-up.
Hoarding clean-up.
Post-construction clean-up.
Commercial floor cleaning.
And more!
The Best
Parking Lot Maintenance Near Me
Top Tier Cleaning Service in Portland can provide power washing and parking lot sweeping to keep the curb appeal of your business attracting new customers and clients. We prioritize safety and can also clean parking garages. In addition to parking lot maintenance, we can also offer COVID-19 cleaning services in the Portland metropolitan area. Let us give you peace of mind when it comes to the working environment of your commercial buildings. Both employee retention and customer retention improve when you have a clean, safe environment. Our maintenance plans can be customized according to your budget, schedule, and specific needs. Whether you need a one-time deep cleaning of your commercial building or a regular maintenance program, the team at Top Tier Cleaning Service can handle it!
Call today to find out more abour our quality service and customized cleaning plans!