Commercial Floor Stripping
Do you need commercial floor cleaning in Portland, Oregon? When you're looking for floor cleaning services for your property, whether you own a retail space or multiple office buildings, look no further than Top Tier Cleaning Service. We offer multiple types of cleaning services for your business, including commercial floor cleaning! The following are just a few reasons to incorporate professional floor stripping and floor cleaning into your building maintenance plan:
1. Safety
One of the best reasons to hire Top Tier Cleaning Service for regular floor cleaning is safety. Dirt, liquids, and any spills can reduce the slip resistance of a finished floor, which makes them less safe for your customers and employees. Clean, well-maintained floors are safer and a well-defined and customized cleaning program for your building will help keep everyone safe.
2. Easier Maintenance and Cleaning
When your property's floors undergo regular maintenance, they are much easier to clean. Almost every floor is somewhat porous which makes it easy for dirt to get trapped and build up on the floor's surface. When you hire Top Tier to strip and clean your floors, the finish will help smooth out the surface and fill in pores so that dirt and other contagions have less opportunity to accumulate.
3. Professional Appearance
When you hire Top Tier Cleaning Service as your commercial cleaning company, we perform regular maintenance on your property's floors. Professional carpet cleaning and upholstery cleaning will leave a lasting impression on your customers. Our commercial customers often hire us for a customized plan including many of our commercial cleaning services, including grout cleaning, regular cleaning of restrooms, parking lot maintenance, routine cleaning of office spaces and floor surfaces, carpet cleaning service, and more.
---
Commercial Floor Waxing
Floor maintenance is critical when it comes to professionalism, health, and safety in your commercial property. Top Tier Cleaning Service offers a wide range of janitorial services to commercial property and business owners in the Portland metropolitan area, including graffiti removal and parking lot maintenance. We offer exceptional service and customizable cleaning plans. No more dirty floors, no matter what type of flooring you have. Commercial floor stripping and floor waxing can be a part of your customized cleaning plan from Top Tier Cleaning Service.
Commercial Floor Cleaning Service in Portland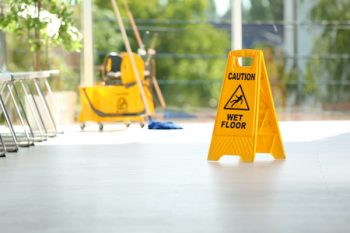 You can rest assured that your floor surfaces will be clean and safe for your employees or customers when you choose Top Tier Cleaning Service as the company to provide your janitorial services. We also offer a wide variety of services for many industries in the Portland metropolitan area. We can clean your carpet and offer quality cleaning services no matter the size building you own. Our expertise and dedication to customer service will allow you the peace of mind to focus on other aspects of your company. We also offer the following services:
Corporate event clean-up services.
Hoarding clean-up.
COVID-19 cleaning and disinfection.
Janitorial services for office spaces.
Floor care services.
Window washing.
Parking lot clean-up.
Graffitti removal.
And more!
Top Tier Cleaning Service Serves the Following Industries:
We offer our professional commercial cleaning services to the following industries in the Portland metropolitan area:
Dental offices.
Medical offices.
Construction sites.
Financial institutions.
Retail spaces.