Where are the Best
Janitorial Services Near Me
?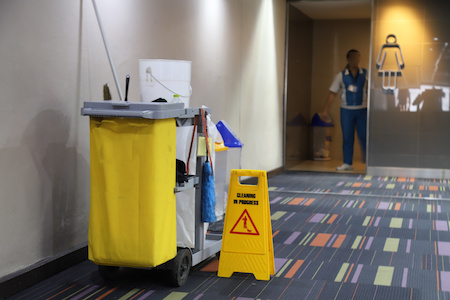 If you're looking for professional commercial cleaning services in Portland, Oregon, look no further than Top Tier Cleaning. Our commitment to our high standards and the healthy environment of your business sets us apart from many other cleaning companies in the area. Our team is dedicated to customer satisfaction and as a professional janitorial company, we provide the following to property and business owners in the area:
Commercial cleaning.
Commercial carpet care.
Medical office cleaning.
Pressure washing.
Hoarding clean-up.
Covid-19 cleaning.
Event clean-up services.
Window cleaning.
And more!
---
Commercial Janitorial Services in Portland
Every business owner in Portland, Oregon knows the importance of a healthy, clean environment when it comes to customer and employee retention. A healthier environment leads to happier customers and employees. Whether you own multiple commercial properties or you need a one-time cleaning after a large event or COVID-19 outbreak, our cleaning crews and professional staff have the training and products necessary for high-quality office cleaning services here in Portland, Oregon. Not only will your office space be clean for both your customers and employees, you'll have the peace of mind that you're providing the best environment possible in your space.
In addition to regular building cleaning services including carpet cleaning services and other janitorial cleaning services, we can provide pressure washing, window cleaning, hoarding clean-up and more. Our customer services is our pride and joy and we pride ourselves on accommodating our customers so that any business cleaning services you need are completed on time and within budget.
Building Janitorial Services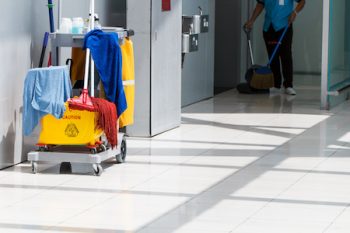 At Top Tier Cleaning Service, we can work with your schedule and budget to provide professional janitorial services to your business. Whether you need a once-weekly clean or a bi-annual floor cleaning, our staff can handle it with a smile. We treat all of our clients like family and we are dedicated to high standards of cleanliness on every job. With recent advancements in cleaning technology, we are able to remove allergens and reduce the amount of viruses and bacteria on surfaces around your office space. This process will lead to a happier, healthier environment for both your employees and your customers.
Do I Need Commercial Janitorial Services?
Perhaps you feel that your business is too small or too large to hire Top Tier Cleaning Service in Portland, Oregon. However, rest assured that no matter your cleaning needs, we can come up with a customized plan to keep your space spic and span. We have many customers just like you in the Portland metropolitan area. We work with multiple industries such as retail, office, healthcare, hospitality, education, financial, and industrial spaces.
Project Professionalism with Top Tier Cleaning Service
We understand that it's important for your business to project a professional image to your customers. We've built our janitorial services company by committing to high standards of cleanliness and customer service. We provide high quality work to all of our clients, corporate or not. Some of the benefits of hiring Top Tier Cleaning to take care of your building maintenance needs include:
More time to spend on your business. When you're not worried about carpet cleaning or other commercial cleaning issues, you can focus on running your business.
Increase your bottom line. Customer and employee retention improves when you have a clean and healthy working environment.
No-stress compliance. Our well-trained professionals will ensure that you are compliant with any rules and regulations related to the cleanliness of your office.
Contact Top Tier Cleaning Service for More Information
Contact us today and tell us about your business and what you need when it comes to professional cleaning services. Whether you need monthly commercial floor cleaning or a regular weekly cleaning service for your office, we can handle it at Top Tier in Portland!