Janitorial services are a must-have in any office building! They play a crucial role in keeping everything clean and organized, making the surroundings enjoyable for employees and customers. But one might wonder when janitorial companies render their services, considering offices are busy throughout the day. Do they only do this at night? Stick around to find out in the blog post below.
What is a janitorial company?
A janitorial company provides cleaning services to businesses, commercial buildings, and other organizations. The service agreement with office management might also offer maintenance support for the building owner. Janitorial companies are responsible for daily office cleanliness, including sweeping, mopping, vacuuming carpets, dusting surfaces like desks and furniture, emptying trash, and sanitizing restrooms. Overall, their job is to maintain a clean and conducive environment for the benefit of the building occupants.
When do janitors clean an office building?
The common misconception is that janitors only clean offices at night! This is an easy assumption when considering that the day hours are usually too busy to allow a janitor to clean in peace. But it isn't always true. Although janitorial companies are called to render their commercial cleaning services at night, they can also help keep your office building clean during the day (they are a 24-hour service)! They only need a minimum of two hours or more for deep cleaning. It all depends on the service agreement and arrangements made with the building management.
Should I hire day or night office cleaning?
It depends on your preference. Day or night, the janitorial company is there for the benefit of keeping your business premises looking neat and professional. However, each option has its pros and cons, as listed below:
Daytime cleaning pros:
Decreased energy consumption
Daytime cleaning allows janitors to use natural light from the sun instead of turning on lights during nighttime cleaning. This means less energy is consumed in turning lights and the HVAC system on. Furthermore, it allows you to turn off the HVAC system at night since nobody is in the building.
Increases productivity
Regular cleaning of your office building ensures that everyone remains productive at work even with minimal distractions. Office buildings, especially the restrooms, get very dirty during the day and can be off-putting if left unattended. A clean and tidy place boosts employee productivity, which is good for the business.
Improved response time
Daytime cleaning allows for better response time in the event of an emergency. If a spill needs immediate attention, janitors can more easily access the area and clean it without wasting too much time.
Better Security
During the day, more eyes are watching the janitors clean.  This is an excellent deterrent for those who might have the wrong idea with so many people around. You can rest assured that your business premises and belongings are safe.
Daytime cleaning cons:
Downtime of your office building during business hours
As mentioned above, janitors need a minimum time of two hours for deep cleaning. This means you can't have them clean during office hours. You would need to ensure that your business is closed when they do their cleaning, so they do not disrupt you and the employees' workflow.
Disturbance and noise nuisance
Daytime cleaning often involves vacuuming, mopping, and sweeping. These activities may result in noise disturbances for employees or other tenants. Additionally, this also means janitors might need to block off certain areas while cleaning, which would be inconvenient if you're trying to get work done during office hours.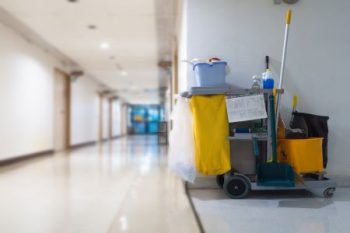 Nighttime cleaning pros:
No interruptions
Nighttime cleaning allows janitors to work quietly and efficiently without distractions or disturbances. They also don't have to worry about cleaning around occupants who may be working during office hours. On the flip side, they are not creating any disturbances or noise that would disrupt other tenants in the building.
No downtime of your office during business hours
Since nighttime cleaning is done after everyone leaves the building, businesses don't need to close shop early just for janitors to clean. This is advantageous if you're a business that operates 24 hours and requires the cleaning done while everyone else is gone.
No disturbance or noise
Most of us are creatures of habit who go through our daily routines every day without fail. Nighttime cleaning allows janitorial services to work quietly and efficiently, not interfering with the usual office schedule.
Nighttime cleaning cons
Security risk
There is a significant risk in allowing an outside party to access your office and all the important documents at night. You can never fully be sure who you are contracting, so make sure to do your research beforehand!
Higher cost
Cleaning companies charge customers for their services depending on the amount of time taken to do the job. Since nighttime cleaning requires a longer time frame, it usually means that you will be paying more than companies that clean during the day.
Your Trusted Janitorial Company!
At Top Tier Cleaning Service, we offer both day and night cleaning for your convenience. Our teams are professional, licensed cleaners who know all the ins and outs of maintaining a clean business premise. You can call our customer desk anytime to find out more about our office cleaning Portland OR services.