Janitorial services are an essential part of any facility. There is no question that there will be times when you need to call in a janitor for some unexpected office cleaning, but what about the long term? Is it better to hire someone when the need arises or find someone who can provide the service more permanently and consistently? This blog post delves deeper into the subject.
Why do I need a janitor?
A janitorial service can help to keep your facility clean, safe, and running smoothly. This means you can focus on your employees and what keeps your business going without worrying about the tidiness of the premise. 
Should I hire a janitor temporarily or call them as needed? 
Overall, janitorial companies are very flexible and can be availed both permanently and when needed. While you may be tempted to hire a janitor on an as-needed basis, there are some benefits to having someone who can provide permanent and consistent services. After all, both options come with unique advantages and disadvantages. The best option will boil down to the nature of your business and what your preferences are.
Benefits of hiring a janitor long-term
Allows you to establish a relationship
Contracting a janitor long-term allows you to develop a relationship of trust. After a while, you can trust them to look out for your property whenever you're not around. They will also come to know your business, how it works, and what is expected of their service. They also get familiar with the anatomy of the building over time to complete the work in a timely manner.
Keeps costs down
When you have someone to provide service long-term, you also have an opportunity to cut costs. If you can draft a service agreement that supports your cost-efficiency in the long-term and get a service to sign, you won't have to worry about finding someone new if your needs change and they are not left unemployed due to lack of work.
Standard quality of work
Having the same janitor for a long time can help to ensure a certain level of quality. When you have the same person coming every day, it is easy for them to learn their routine and do things properly each time they work. Once they've understood what you require of them, you can expect the same standards of cleanliness every time you walk into the office building.
Long-term janitor cons
Paperwork
If you're hiring a janitorial company for the long haul, a contract has to be involved. The problem here is that you have to stick to the term of the contracts at all times. You simply can't wake up one day and fire them when you're not happy with the janitorial work anymore. Contracts have to be respected and enforced, even if it means having a less than ideal working relationship with your service provider.
Not as flexible
Even though long-term janitorial services can provide the same standard of work every time, they are also much more restrictive in terms of flexibility. If you change your needs or want to make some adjustments, you can't start looking for someone new. They are already contracted, so that any adjustment can lead to additional costs and unforeseen problems.
Benefits of hiring as needed janitorial services
Cost-effective
The most significant benefit is avoiding a long-term commitment if you call a janitor as needed. It means that you only pay janitors when you require them, and you can terminate the agreement as soon as your need no longer exists. This helps prevent any unexpected budget increases since nothing binds you to a contract requiring renewal or cancellation fees.
Gives you time to vet the service provider
Before making a long-term commitment to any service, it is important to take your time and make sure you're happy with the results. You can research or ask for references from previous clients who may already be using their services. When hiring as needed, this allows you to see if they meet your standards of your ideal candidate before signing anything official.
Greater flexibility
One of the most significant advantages of hiring on an as-needed basis is the ability to adjust at short notice without having to worry. On top of that, if your needs change or your business changes course, it's easier to terminate an agreement without legal consequences.  You can hire someone new or change the terms of your contract more easily, which allows you to work around problems as they arise.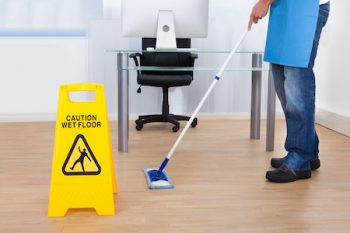 As needed, janitor cons
Compromises quality of work
If you hire a janitorial service temporarily, they are probably working for other office buildings. This means they may not fully dedicate their time and energy to do a satisfying job as their loyalty is not entirely with you. Furthermore, they may not always be available when you need them.
Security risk
It can be risky to hire a service you haven't had much time to get to know. You can't be sure of their level of professionalism and whether they'll do the job to your standards, given that it is your first encounter. The problem here is that you can never get the same janitor every time you need them, so you'll be forced to contract a new service most of the time.
Come to Top Tier Cleaning Service!
Our company is dedicated to providing the best janitorial service possible, and we offer flexible contracts that can be tailored to suit your needs. We will clean your office building or facility according to your requirements- day or night! If you need a janitorial service in Portland, OR, be sure to give us a call!