Staying on top of office hygiene is essential, but it can take up a lot of valuable time. Given the amount of time your staff already spends in the office, it might be worth considering contracting out certain jobs, like office cleaning, to free up their workload and allow them to focus on completing their tasks. Professional office cleaning services can bring a range of benefits to your workplace. Not only do they provide thorough and effective cleaning services, but they also ensure that all areas are consistently kept organized and hygienic.
Saves Money and Time
Cleaning an office can be a hefty task, especially if staff members are responsible. It takes significant amounts of employees' regular working time and eats away at the number of hours they have to dedicate to their primary jobs. Hiring a professional service to take care of office cleaning can alleviate that problem in terms of the amount of time saved by employees and the costs associated with having them do the work in-house. This also gives office staff more time to focus on projects that require thought and skill, potentially leading to improved customer relations. Additionally, hiring a professional service allows an office to avoid bringing on another employee for the sole purpose of cleaning – allowing for further savings!
Quality Cleaning Gives Good First Impressions to Customers/Clients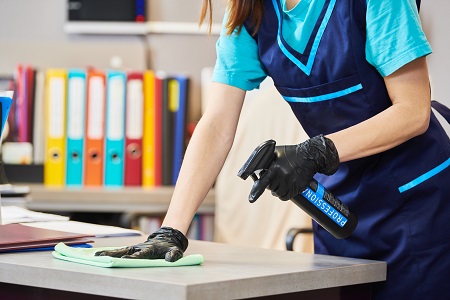 An office environment can make all the difference in creating a positive and inviting atmosphere for clients and visitors. Professional cleaning services, such as those provided by janitorial companies, can help to keep your office space tidy, from dusting shelves and tidying reception areas to regularly vacuuming carpeted floors and organizing common spaces. Not only does this help to create an inviting atmosphere for guests entering the business premises for the first time, but it also shows that you take pride in maintaining a professional workplace. Professional cleaning staff will produce professional results.
Reduces Work Stress
Creating a clutter-free work environment isn't just about maintaining your workspace clean and organized – it impacts the overall working experience for your staff. In a chaotic and cluttered workspace, employees often feel overwhelmed and anxious, particularly when trying to locate items they need throughout the day. This can quickly lead to frustration, unproductive days, and lower morale. On the other hand, a well-organized office setting conveys positive vibes that affect workers in many positive ways.
Use of High-Quality Products
Professional commercial and office cleaners ensure a workplace is kept to the highest standards, using state-of-the-art tools and equipment that are built for the job. This includes high-quality vacuums, mops, and other items specifically designed to handle the regular wear and tear of commercial cleaning. This means they can expedite their work while also achieving maximum efficiency. Professional cleaners provide an extra layer of expertise beyond what a typical employee at an enterprise may have when tackling a cleaning project, making them invaluable in keeping any property looking spotless and hygienic all year round.
Avoid Liabilities
Investing in a commercial cleaning service is a great way to ensure that your office or building stays up-to-date on the latest standards of cleanliness and hygiene. Your cleaners will be highly trained in best practices for keeping your space safe, clean, and organized. You won't have to worry about chasing down the most current Occupational Safety and Health Administration (OSHA) compliant protocols or keeping up with ever-evolving state health guidelines; your commercial cleaners will take it upon themselves to stay informed on all these areas. When you hire a professional cleaner, you're assured that every surface and appliance is sparkling and that intense scrutiny has been paid to bringing the environment up to code and keeping it there.
Retain and Attract Employees
Running a business is no easy feat – offering competitive salaries and incentives to attract new employees and keep existing workers happy can be quite a challenge. But it's not just about wages. There are other factors that employers must consider to draw the best talent. One of these is the workplace environment; having an attractive interior makes your company appear trustworthy and welcoming. Maintaining a clean and orderly business space is essential to create the right impression on people inside and outside of your organization. Not only does this increase employee morale, but it also shows potential hires that you value neatness, organization, and attention to detail – all qualities that successful companies need.
Lighten the Load on Your Staff
Companies oftentimes rely on their employees to take on more responsibility, such as increased workloads and additional tasks in order to keep operations running smoothly. Unfortunately, most workers already have a lot on their plate—from answering emails to working with clients and more. Heaping more tasks, like cleaning, onto them could easily derail productivity and push employees beyond their limits, leading to burnout and reduced effectiveness. Furthermore, it may be difficult for businesses to properly sanitize their premises if they rely solely on their staff. Proper cleaning requires the expertise of professional cleaners who know how to use the right equipment and products in order to ensure safety.
Your Local Office Cleaning Crew Is Here to Help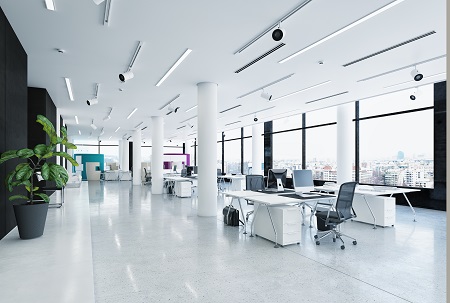 Top Tier Cleaning Service is dedicated to providing professional office cleaning services tailored to the individual needs of our clients. We understand that different spaces require different levels of cleaning, and it's not always easy to create a customized plan on your own. That's why we work closely with you to discuss your unique requirements and design a plan specifically for your retail stores, corporate offices, or other commercial spaces.
Call us today to find out more about how we can help customize a cleaning plan for your space and help create an environment that leads to happier employees, fewer sick days, and happier customers. We are dedicated to deep cleaning your whole commercial space and upholding customer satisfaction.
Here are the related services we provide:
Janitorial cleaning services
Commercial floor cleaning
Post construction cleaning
Covid-19 cleaning
Office cleaning services