As the role of hygiene and sanitation receive more attention, people are prioritizing their health more than ever before. In today's world, hiring a cleaning service can be seen as an investment in staying safe and sound. Here are questions you should ask your potential cleaning company before hiring them.
Do they have good online reviews?
When choosing a cleaning company, one of the first steps should be researching their reviews. This is the best way to get an honest opinion from previous customers and understand the quality of services typically provided by that particular company. The internet can provide a treasure trove of helpful insights; a quick Google review simply won't do. Scanning Google, Yelp, and other online community forums for authentic feedback gives you an indication of what kind of service you will receive.
What are your rates?
Determining the cost of cleaning services is an important consideration for any business. It's essential to know upfront how much you'll be spending for these vital services so that you can budget accordingly. Cleaning rates can vary depending on a couple of factors, such as the project size and the number of people needed to complete it. Furthermore, the initial rate may depend on the hour, while subsequent visits could be billed by project or room. Fortunately, most cleaners are happy to provide accurate quotes to help businesses plan its budget accordingly before committing to a service provider.
Do you guarantee customer satisfaction? Do you offer follow-ups if I have questions after?
From the outset, it is vital that you and your cleaning company are on the same page regarding communication and addressing any issues that may arise regarding the work they've completed. Working with a professional housekeeper can bring peace of mind in knowing that your expectations have been clearly outlined and that they are willing to adjust if needed based on your feedback. A good janitorial service should always be willing to make amends if they do not meet the standards you had anticipated.
What type of cleaning products do you use?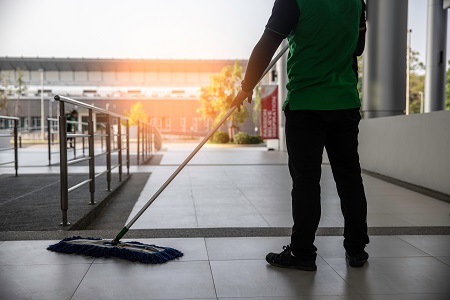 These days, green cleaning products reign supreme. Custodial services are increasingly opting for these eco-friendly cleaning solutions so that the occupants of their commercial buildings can feel safe and rest easy. This is especially true when there are little ones or furry family members in the mix— having peace of mind that your environment is chemical-free means a lot. Though 'green' may be the norm now, it's still worth confirming with your cleaning service to ensure this level of care will be maintained in your building.
How should I prepare my space before you come clean?
Every cleaner has a unique style they like to work with, so it's in your best interest to be prepared before they arrive. Asking what pre-work you can do ahead of time streamlines the cleaning process and gives your cleaner the freedom and space they need to tackle every task. By tidying up and organizing beforehand, you're giving them fewer items to work around, freeing up hours that could be spent dusting blinds or getting those hard-to-reach nooks and crannies.
What cleaning is specifically included in your service?
When it comes to cleaning services, nothing should be left to assumption! From ceiling fans to those hard-to-reach windows, no spot should be forgotten. Be sure to know what's included in your service and ask for the extra touches that guarantee you get a comprehensive clean. It might mean an extra charge, but it will be worth the money if there's a grimy surface in sight.
Are you insured if something breaks while you clean?
It's always important to consider the consequences of hiring an uninsured cleaner. Not only could you be liable for damages or accidents, but you may also find yourself with hundreds of dollars in medical bills if a cleaner suffers an injury on your property. That's why asking about any cleaning service's liability and workers' compensation insurance is essential. Don't hesitate to inquire about their insurance policies if you're dealing with a large franchise or a smaller one-man operation.
What is your cancellation policy?
When life throws you a curveball, it can be tough to determine how to handle a scheduled cleaning appointment. That is why it's important to know the answers in advance: when should you cancel in advance? What's the best way to inform your cleaner about last-minute issues? And do they charge fees associated with calling off a service?
How many people should I expect to come clean?
When managing a successful cleaning process, one of the essential questions to ask your local cleaning company is, "How many members are on the cleaning crew?" Knowing the answer to this question will allow you to accurately plan and prepare for the day that their employees arrive on site. Not only should you inform your staff members and facilities team of how many people will be entering the premises, but you should also make sure that you have adequate space set aside for them accordingly.
Call your local janitorial cleaners today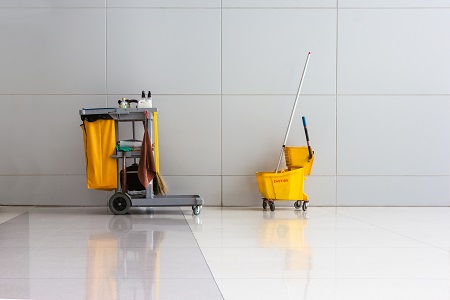 At Top Tier Cleaning, we take providing superior commercial cleaning services near Sherwood, Oregon very seriously. Our team is dedicated to delivering outstanding customer satisfaction and ensuring that your business remains a clean and healthy environment for employees and customers alike. In addition, at Top Tier Cleaning, we also provide comprehensive janitorial services tailored to your needs, from regular maintenance to deep cleaning jobs. We have the skills and equipment necessary to tackle your commercial cleaning requirements and guarantee top-tier results that will make you wonder why you ever went anywhere else! Give us a call today – we look forward to turning your property into its cleanest self!
Here are the related services we provide:
Office cleaning services
Commercial floor cleaning
Janitorial cleaning
Visit our Terms and Conditions page for more information about what our company offers.