You've worked hard to build your business; don't let a dirty floor tarnish your reputation. Hiring professional commercial floor cleaning services isn't just a luxury; it's a smart business move.
They provide a thorough, deep clean that not only enhances your business's image but also promotes a healthier working environment.
They'll save you time and money too.
So, let's dive into the many benefits you'll enjoy when you leave your floors to the pros.
Understanding the Importance of Cleanliness in Your Business
A polished, pristine workspace doesn't just impress clients; it boosts employee morale and productivity, too.
Don't underestimate the power of professional commercial floor cleaning services. They'll use high-quality, eco-friendly cleaning products that are tough on stains yet gentle on your floors. They'll employ modern cleaning techniques to eliminate dirt and grime from even the hardest-to-reach corners. These experts will pay attention to every detail, ensuring a deeply cleaned, sparkling floor that you'll be proud to showcase.
The Role of Professionalism in Commercial Floor Cleaning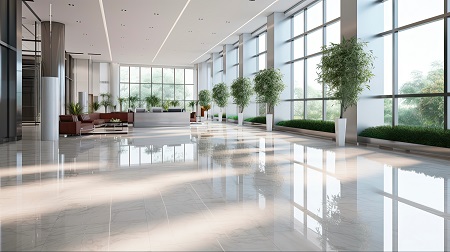 You're discovering how professionalism in commercial floor cleaning enhances the overall appearance of your business while also contributing to a healthier work environment.
Professionalism manifests in several ways:
1. Techniques: Experts use proven advanced cleaning methods to clean different types of floors without causing damage.
2. Equipment: Professionals come equipped with high-quality, industry-standard tools that handle stubborn stains and grime.
3. Products: They use safe, effective cleaning products that won't harm your floors or pose health hazards.
4. Timeliness: A professional service respects your time and schedules cleaning to minimize disruptions.
Understanding this, you'll see that investing in professional floor cleaning isn't just about cleanliness—it's a strategic move to maintain your business's image and ensure a safe, clean workspace.
Health and Safety Advantages of Professional Floor Cleaning
Where could you find a more comprehensive way to ensure both health and safety in your workplace, if not through professional floor cleaning? By hiring experts, you're not just getting a cleaner floor, but you're also promoting a healthier environment. They're trained to eliminate harmful bacteria and allergens, which can be a big health risk. Plus, they're equipped with the right tools and high-grade cleaning solutions that won't harm your employees or guests.
Moreover, a professionally cleaned floor reduces the risk of slip and fall accidents, ensuring everyone's safety. They'll also save you time and effort because they're efficient and detail-oriented.
Time-Saving Aspects of Professional Floor Cleaning
In your busy work schedule, the time-saving benefits of professional floor cleaning can't be underestimated, providing you with spotless results without the time investment.
Here's how:
1. Efficiency: Professionals have industry-grade equipment and skills to clean faster and more effectively.
2. Regular Service: Scheduled cleaning means you won't have to scramble to tidy up before important meetings or events.
3. No Training Required: You don't need to spend time learning or teaching your staff about various cleaning techniques and products.
4. Flexibility: Cleaning services can be tailored to your schedule, letting you focus on what you do best.
Enhancing Your Business Image With Clean Floors
Maintaining a polished image for your business isn't just about the services you offer; it's also about the cleanliness of your workspace. A spotless floor can certainly elevate that image. Don't underestimate the impact of a sparkling floor. It sends a message of professionalism, attention to detail, and care for your environment.
Professional cleaning services have the right equipment and expertise to clean your floors thoroughly. They can remove stubborn stains and dirt that you may not even notice. Additionally, they use specific products for different types of floors to ensure longevity and maintain their shine. It's not just a clean sweep; it's a comprehensive clean that contributes to a healthier, more appealing workspace.
Cost-Effective Benefits of Hiring Professional Floor Cleaners
You'll save both time and money by hiring experienced professional floor cleaners, and you'll also enjoy the added benefit of a spotless, professional-looking workspace. The cost-effectiveness of professional services is due to several factors:
1. Expertise: Professionals know the right techniques and products to use for each type of flooring, reducing the risk of damage.
2. Efficiency: They're equipped with commercial-grade cleaning equipment that gets the job done quickly and thoroughly.
3. Maintenance: Regular deep cleaning services extend the life of your floors, saving you from costly replacements.
4. Impression: Clean floors create a positive image of your business, potentially attracting more customers.
Top Tier Cleaning Service Professional Cleans Floors for Commercial Buildings
When you hire Top Tier Cleaning Service, we will not only clean your commercial building's floors with professional expertise, but we will also ensure a safe and healthy environment for everyone involved. We are well-versed in various commercial cleaning techniques and utilize high-quality products to deliver unmatched results. From carpet cleaning to graffiti removal, we offer a wide range of quality services tailored to your specific needs.
In the wake of COVID-19, our meticulous disinfection services are more important than ever. We are committed to maintaining the highest standards of cleanliness and safety. We will also handle any corporate event clean-up or janitorial services, freeing you to focus on your business.
With Top Tier Cleaning Service, you're guaranteed peace of mind and a sparkling clean work environment.
Cleaning services we provide:
Residential and Commercial Cleaning Services
Professional Carpet Cleaning Services
Office Cleaning Services
Window Cleaning Services
Contact us for high-quality customer service.