Keeping your business clean and presentable helps create an inviting environment for customers, employees, and other visitors. Not only is it important to keep a pristine look, but having proper sanitation practices in place can also help stop the spread of germs and bacteria within your workplace. As a business owner or manager, it's up to you to make sure that your office space remains healthy and hygienic by following some basic cleaning tips. In this blog post, we're going to take you through various ways of keeping yourself and others safe by providing advice on maintaining an optimal level of hygiene in any working environment. We'll also discuss a few reasons why you should consider a professional janitorial service.
1. Consider Investing In Quality Equipment & Products
Investing in high-quality equipment and products is essential to keeping your business clean. Not only do they help maintain a hygienic and comfortable environment, but they also provide extra protection against germs and other contaminants that can affect customers' health. Investing in reliable products like hand sanitizers, antibacterial soaps and cleaners, dusters, and disinfectants will allow you to keep your workplace comfortable, pleasant and safe for your employees and customers alike. Quality equipment, such as mops, vacuums and cleaning cloths, prevent dirt build-up in hard-to-reach areas of the business while ensuring a thorough cleaning job whenever necessary.
2. Create a Regular Maintenance Plan
Regular maintenance can help to keep a business looking its best, and making a plan will ensure that you remain consistent in your efforts. It is not enough to simply clean up when the appearance of the business begins to slip – a plan keeps you one step ahead. Maintenance should focus on keeping the essential elements in order, such as sweeping and mopping, taking out the trash, and making sure that any special services are still functioning as needed. Creating and executing a regular plan will help maintain your business's reputation and make sure it stays presentable for customers, employees, and stakeholders alike.
3. Establish Daily Hygiene & Cleaning Procedures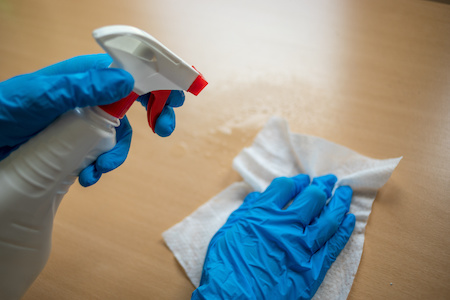 Establishing certain routines and procedures for employees to follow on a daily basis is an excellent step to take when trying to keep your business clean and safe. Assigning basic cleaning tasks for your employees to perform in their surrounding areas, such as dusting, sweeping, mopping, vacuuming and disinfecting surfaces, can help reduce the risk of employees getting sick by removing contaminants from the workspace. It is also important to encourage employees to maintain good hygiene habits by providing hand sanitizer around common spaces and offering regular handwashing reminders in visible places. Doing this ensures everyone is on board with a healthy level of sanitization throughout the workplace without sacrificing productivity.
4. Consider Hiring Professional Janitorial Services
Hiring experienced professionals to provide janitorial services can be an excellent decision for any business. Utilizing the knowledge and skills of qualified janitors can ensure a higher level of cleanliness, leading not only to improved hygiene standards but also to reduced stress for staff in the workplace. Furthermore, with access to specialized equipment used by professional cleaners, you'll be able to maintain up-to-date safety guidelines in your building through regular deep cleans and thorough sanitization protocols. Ultimately, hiring a professional janitorial service will give you peace of mind that your workplace is as clean and safe as possible – not just now, but well into the future too.
Your Local Janitorial Company In Portland OR
At Top Tier Cleaning, we understand the importance of a clean, healthy, and comfortable work environment, which is why we strive to provide our customers with the highest quality janitorial services in all of Portland, Oregon. Our team of experienced professionals is dedicated to customer satisfaction and works hard to make sure that your space receives the attention to detail it deserves. From daily office cleaning, vacuuming and dusting to carpet care services and regular sanitizing procedures, our janitorial services are designed to keep your environment healthy while ensuring that your space looks its best. We are proud of our commitment to high standards and are trusted by businesses across Portland for providing reliable services on time and at an affordable price. Contact us today for more information!