As a business owner, you know how important it is to have a clean and welcoming environment for customers and employees. But hiring the services of a professional commercial cleaning company can be a daunting task. With so many companies to choose from, it's hard to determine which one is best suited for your business needs. In this blog post, we'll discuss the criteria necessary in order to confidently select the appropriate commercial cleaning service that will ensure your premises are spotless at all times!
1. License & Insurance
When it comes to hiring a commercial cleaning company, two of the most important things to look for are their license and insurance. Ensuring that the company is licensed and has adequate insurance offers protection for everyone involved. By having a valid license, you can be sure that the company has met all legal requirements necessary to operate in your area. Insurance is also essential because it safeguards both parties in case of any accident or injury that may occur while the service provider is present on the premises. Furthermore, knowing that the company is licensed and insured demonstrates a commitment to quality, safety, and professionalism from the cleaning team. Thus, it's best to always inquire about these credentials before booking any cleaning services.
2. Experience
Experience is an invaluable asset when selecting a commercial cleaning company, as it ensures you are working with a team that understands the necessary safety protocols and sanitation guidelines. It also means they have dealt with similar jobs in the past, so they can foresee any potential problems that may come up during the project. Working with an experienced cleaning crew will help to give you peace of mind that your business premises are being thoroughly and carefully cleaned and disinfected, leaving them looking their very best. Don't take any chances on substandard services – choose an experienced commercial cleaning company for your next cleaning job.
3. Schedule Flexibility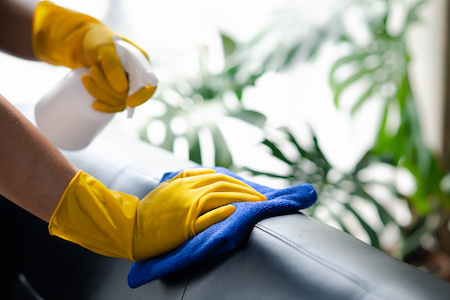 When it comes to commercial cleaning services, having a schedule that is compatible with your business hours of operation is critical. A reliable and flexible cleaning service provider is essential so that disruption in day-to-day operations can be avoided. It's important to ask potential cleaning companies about their availability and willingness to work around your unique scheduling needs. Make sure they offer flexible options like after-hours cleanings or per-visit scheduling, especially if your business operates outside of regular business hours or needs a special one-time job completed quickly.
4. Offered Services
Certain businesses will have different needs from others, making it important to ensure the business you choose provides options that suit your needs. From one-off deep cleaning services to frequent maintenance and janitorial services, the right company for you should provide a selection of packages tailored specifically to your particular requirements. The best commercial cleaning companies will understand your business's needs and be able to accommodate them cleanly and efficiently with minimal disruption.
5. Reviews
Reviews are invaluable. Paying attention to what others have to say about the provider can help you make an educated decision rather than relying solely on the company's own claims or promotional materials. Reviews can highlight which services the company offers and provide insight into customer service, quality of work, and overall reliability. Good customer reviews offer reassurance that the company can deliver what is promised and usually represent a reliable source of information. Always take a few moments to read up on reviews before making your final selection, as they can make all the difference in finding a reputable cleaning service.
Your Local Commercial Cleaning Company In Portland
At Top Tier Cleaning Service, we understand the critical role a commercial cleaning service provider can offer in providing a secure, healthy and productive environment for your workplace. Our commitment to quality, customer service and hygiene is unmatched in the Portland area. We take great care in understanding your facility's unique needs and developing a cleaning plan tailored just for you. Our staff follows the highest standards in delivering our services, guaranteeing a thorough and reliable job each time. Plus, our team schedules cleanings at times that are most convenient for you and all of your employees or tenants. You can count on Top Tier Cleaning Service to deliver effective and efficient professional solutions that meet all of your living and working space requirements.
Our wide variety of cleaning services includes:
Building maintenance services.
Regular commercial carpet cleaning.
Window cleaning.
Office cleaning.
School cleaning.
Medical office cleaning.
And much more!
Contact us today for a free cleaning service quote. We look forward to hearing from you.